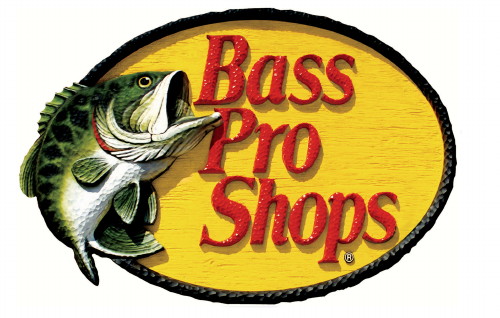 It's not too early to be thinking about Christmas and the gifts you'll need for the outdoor enthusiasts on your list. No matter if they're at home on the water, in the woods, or just enjoy decorating their favorite cabin get-away, a lot of great gift items are available at Bass Pro Shops. There you can find the perfect outdoor gift for the 'kid' of any age, no matter what your budget is.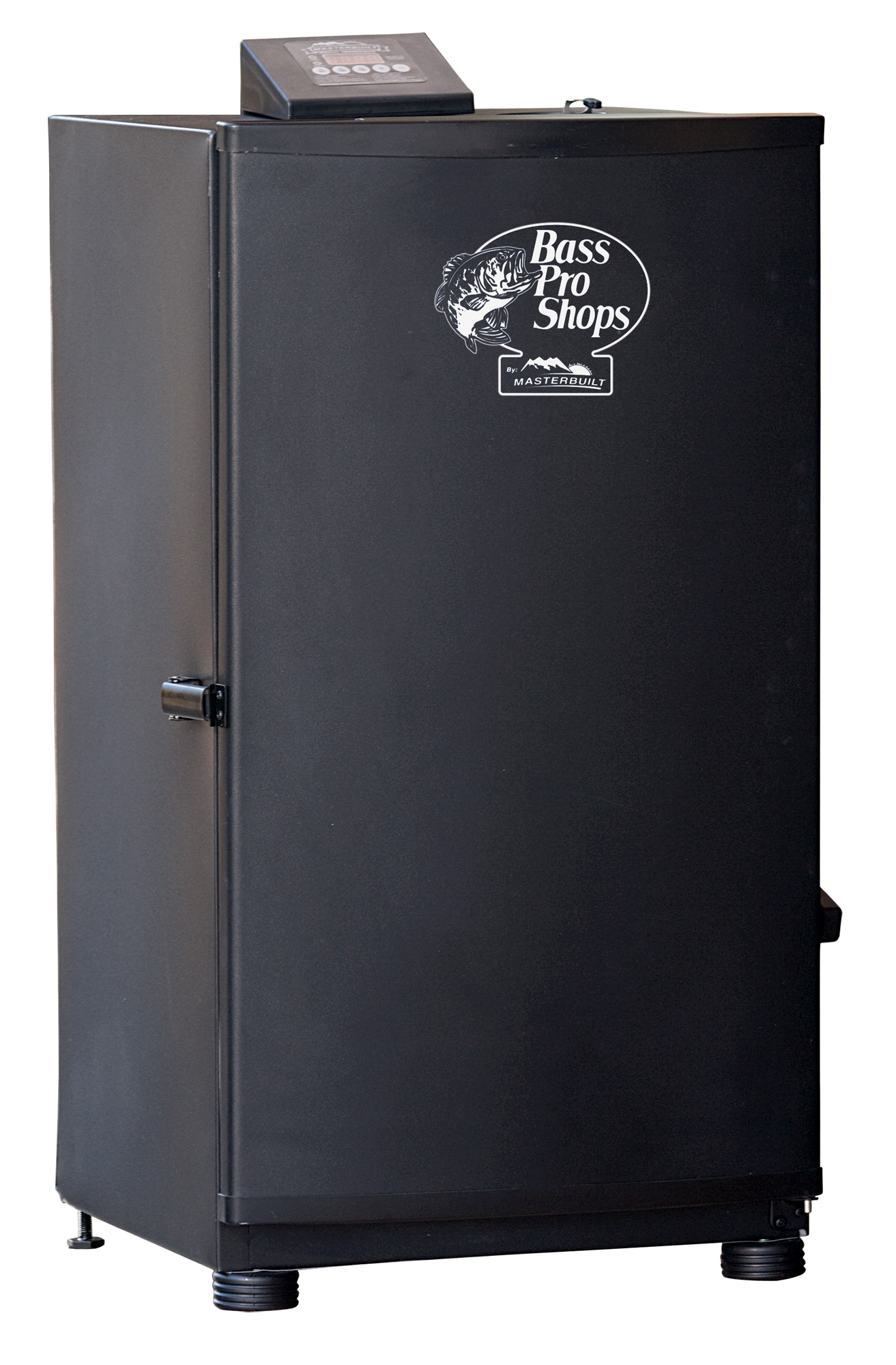 Enjoy precise push button digital temperature and time control with this professional-grade smoker from Bass Pro Shops®.
The Bass Pro Shops Electric Smokehouse Smoker
features a digital thermostat-controlled heating element that adjusts up to 275º for even consistent cooking. Four removable smoking racks in 1.7 cubic feet of cooking space give you lots of room to smoke large quantities of food. Powder coated steel outer construction surround insulated walls for a cool-touch exterior. Automatic shut off prevents overheating. Intelligent design includes side loading wood chip holder, removable drip pan, rear-mounted grease pan, and top air damper to make smoking easier. 730.11 square inches of cooking surface. Color: Black. Outside dimensions: 19.4''x18.3''x33.9''. Smoker Box dimensions: 15.26''Wx12.7''Dx26.31''H. Weight: 52.5 lbs. Item number 38-612-511-91. $239.99USD. Available at
www.basspro.com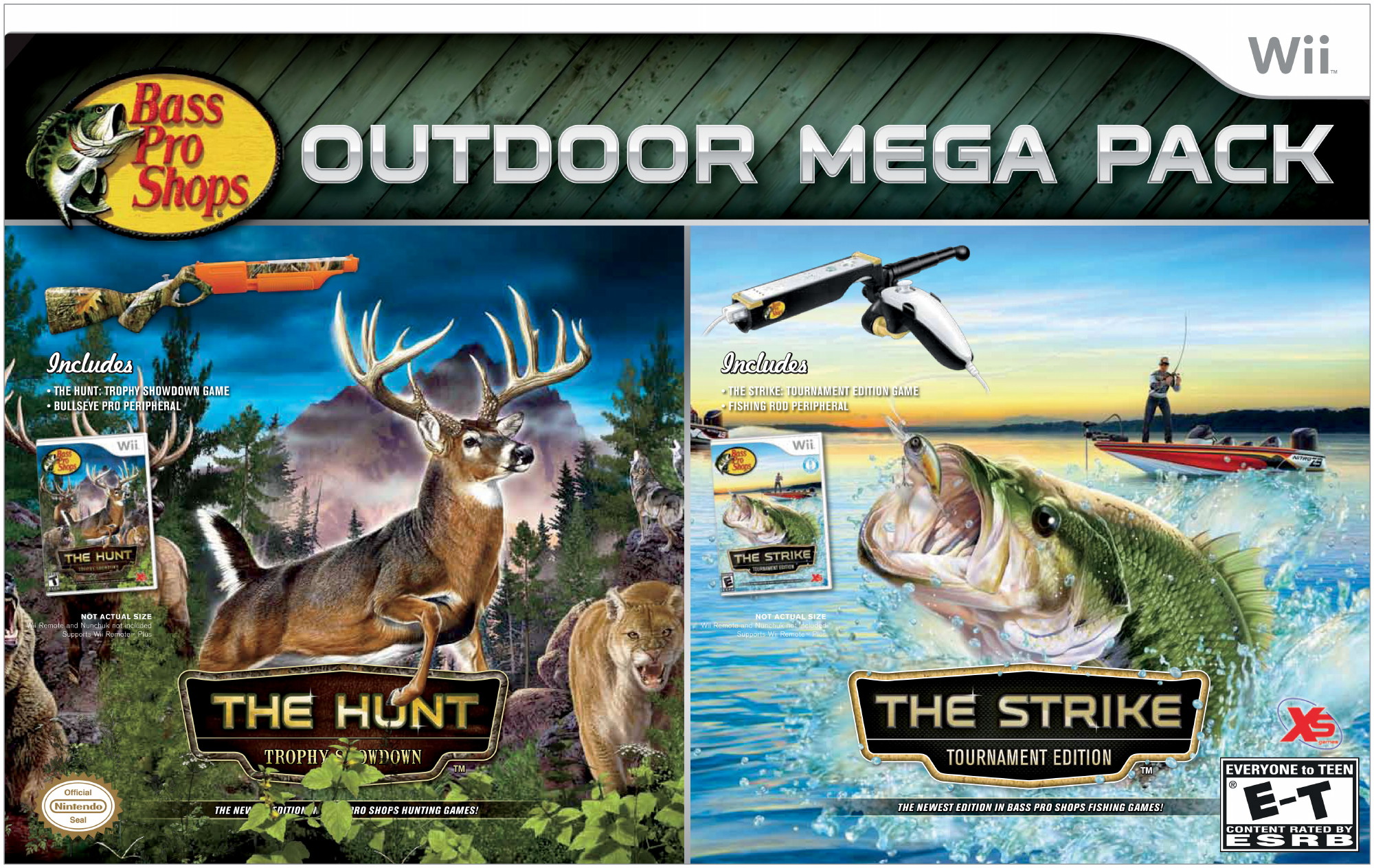 Get two incredible games with this
Bass Pro Shops Outdoor Mega Pack! The Hunt: Trophy Showdown
is the most realistic hunting experience available, bringing you to an amazing variety of huge North American landscapes. Featuring both big and small animals, aggressive predators, and customizable weapons, you'll lock horns with some of the world's best hunters as you compete to become a member of the exclusive Bass Pro Shops championship hunting team.
The Strike: Tournament Edition
is the closest you'll get to real tournament fishing without ever leaving the comfort of your living room couch. Grab your favorite rod, reel and tackle box and get ready to enter the cutthroat world of competitive tournament fishing. You'll face some of the world's best anglers as you navigate a series of ten tournaments, situated on North America's premier fishing lakes. Item number 38-955-000-61. $49.99USD. Available at
www.basspro.com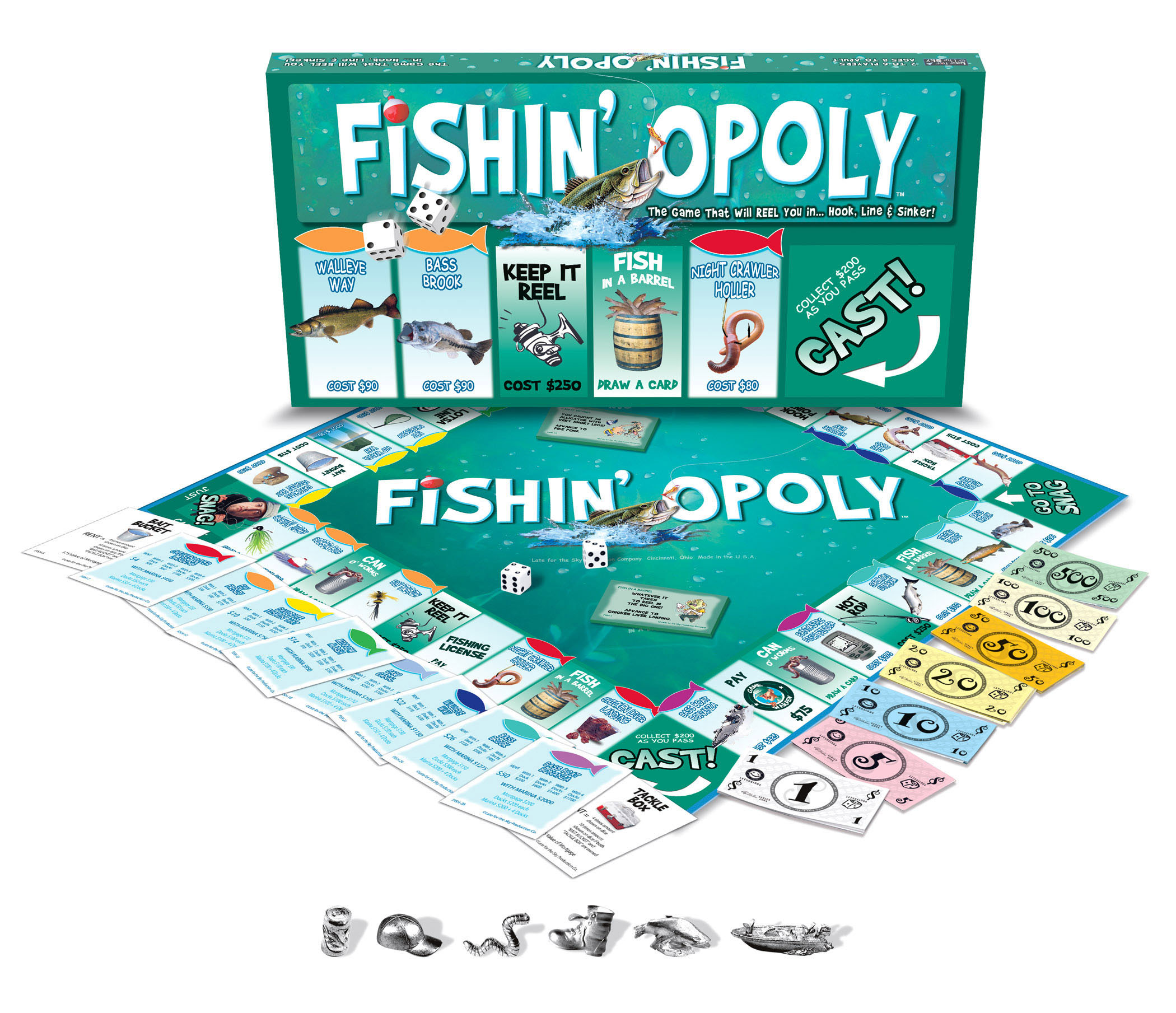 The game that will reel you in--hook, line and sinker!
Fishin'-opoly™ Board Game
allows players to buy, sell and trade their favorite fish and fishing gear with family and friends. Players choose their tokens and advance to Cast. It's all fun and games until someone lands on Snag, gets all hung up, and is out of the game for three turns! While playing, flip over the deeds and learn some fun fishin' facts. Makes a great gift for anyone who enjoys board games! Warning: Choking hazard. Small Parts. Not for children under 3 yrs. Item number 38-955-146-23. $24.99USD. Available at
www.basspro.com
Bass Pro Shops® Johnny Morris® Signature Series Bass Caster Reels
are our top-of-the-line baitcasters. Give the gift that puts the power of carbon into the hands of your outdoor enthusiast. Revolutionize their fishing with its tough diecast aluminum frame, side-plates and lustrous black carbon-titanium deposition finish. This reel will still look awesome years from now. The double-anodized-aluminum spool floats on premium Japanese stainless steel ball bearings, part of a 100% double-shielded 10-bearing system that includes Powerlock™ instant anti-reverse. The hardened Duralumin drive gear is flanked by three special-purpose carbon washers to ensure perfect meshing, for totally smooth winding power with no torque, ever. Plus, our popular Dual Braking System delivers virtually backlash-free casting. Top-drawer features include: a beefed-up, super-smooth carbon drag system; lightweight carbon-fiber Recurve handle with ribbed silicone knob; padded clutch bar; and titanium-nitride line guide. ''Don't be afraid to fish these reels hard. They take the fight to the fish and come out on top every time. The retrieve and drag are the smoothest you'll ever fish!'', said Johnny Morris, Bass Pro Shops® Founder and 5-Time Bass Master Classic® Qualifier. Bass Pro Shops® Johnny Morris® Signature Series Bass Caster Reels vary in item number. $159.99USD. Available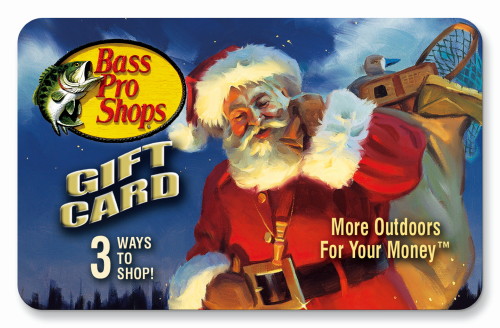 at
www.basspro.com
Give a
Bass Pro Shops Gift Card or eGift Card
to your favorite outdoor enthusiast. Simply provide us with the dollar amount, and we'll custom tailor a Gift Card for you. All Gift Cards can be redeemed for online purchases, catalog orders, and purchases made at Bass Pro Shops retail stores. It's the Perfect Gift! Available at
www.basspro.com
Families can enjoy the wonder of Christmas inside every Bass Pro Shops store with "
Santa's Wonderland--A Classic Christmas
"--an over 3,500-square foot Christmas village chocked full of fun games, activities and crafts for the whole family -from November 10th through December 24th. (Event occurs in 57 stores--World Wide Sportsman in Islamorada, FL is not included.)
Now in its 5th magical year, the excitement begins with Santa's arrival Saturday,
November 10th at 5pm
plus there's a new special feature this year.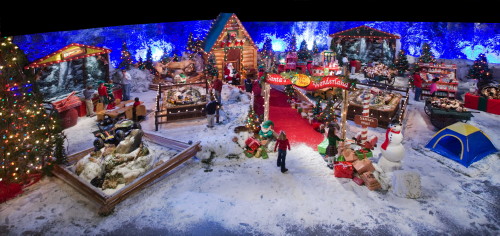 Comprised of both animated and live elves, nutcrackers, reindeer and more, the village offers an old-time model train area, remote control trucks, a laser arcade, a soft gun range and slot car racing. Kids can also play the hottest video games of the season with The Strike™ and The Hunt™. They'll love the activity tables where they can write a letter to Santa, color and do fun crafts every day of the week--all absolutely free. Of course, Santa will be in residence there throughout the season.
New to the event this year is a special 'talking caribou.' Every store will have an animatronic caribou which will play messages from a motion activated sequencing and also has the ability to interact with the crowd via an associate and a hidden two way microphone system.
Always a family tradition, customers can get a
free 4x6 studio-quality photo with Santa
from 3pm to 8pm Monday through Friday, Saturday's 10am to 8pm and Sunday's noon to 5 pm. Children who get their photo taken weeknights only from 3-8pm will receive a free Santa coloring book (while supplies last).
Photo and gift packages will also be available. If the line is long, they can just grab a Bass Pass and their appointment with Santa is set. To find out more about Bass Pro Shops Santa's Wonderland, visit
www.basspro.com/santa
. Wrap up Christmas this year for you and your family with great gifts and events at your local Bass Pro Shops.